Gregory Richard Coates - Born 1954 Sydney Australia
---
Education:
Meadowbank Technical College
East Sydney Technical College
School of Visual Art New York
University of Newcastle
Exhibitions: Australia
Q Gallery
Australian Galleries
Scone Art Prize
Berrima Drawing Prize
Camden Art Prize
Hunters Hill Art Prize
Walkom Manning Arts Prize
North Sydney Art Prize
Drummoyne Art Prize
M.A.C. Festival, Gosford
Australian Watercolour Institute
Sydney Royal Easter Show
Mosman Art Prize
Wyong Festival of the Arts
Gosford Art Prize
Peninsular Art Prize
Newcastle Art Prize
Bay Gallery, Ettalong
Exhibitions: USA
1984 – 1993 Resident in Brooklyn New York, Rockport Boston.
Rockerfeller Centre, New York
26 Federal Plaza, New York
National Academy of Design, New York
Park Slope Artists Council, New York
Museum of National Arts Foundation, USA
Small Works, New York University
'Drawing In Brooklyn', Long Island University
'In search of the American Experience', Brooklyn Museum
'Birds and Beasts of Brooklyn', Brooklyn Museum
Artists on the Move, New York and D'Auvers – Sur – Oise France
Pleades Gallery, New York
Brooklyn Museum, Brooklyn, New York
Pisces Gallery, Rockport, Mass
Grey Gallery, Boston, USA
Prizes and Awards:
Gosford City Art Prize 1996
Gosford Regional Show Art Prize 1996
Hunters Hill 9 x 5 Art Prize 2010
Peninsular Rotary Art Prize 2008 / 2010
City of Ryde Art Prize Traditional Section 2010
Mortimore Art Prize Smalls Section 2010
Belligen Art Prize 2017
Nexus Gallery Painting Prize 2017

Greg was intrigued by art from a young age this was motivated by visits to the Art Gallery of NSW with his maternal grandmother who nurtured his interest. Her appreciation of all art genres grounded his own views on the aesthetic beauty that could be held within paintings and sculpture. He would spend many hours drawing and studying art books throughout his youth. The early works in watercolours were influenced by Andrew Wyeth and Fredric Bates.
He went on to a formal artistic education at Meadow Bank and East Sydney Technical Colleges, later attending Newcastle University and the New York School of Visual Arts. Whilst residing and exhibiting in America he travelled extensively to many museums and galleries. These travels would clarify his artistic vision and lay the platform for the way his subject matter was approached and rendered. On his return to Australia, oil painting became his preferred and predominant medium. This was a search for a stronger, richer and more edited result.
Greg states that, "oils are a patient layering of texture and pure colour which give depth and a more realistic rendering of the subject not achieved in other mediums." This is evident in his fastidious observations of the subject. For Greg, the portrayal and study of the ubiquitous, which is mostly overlooked becomes the focus of his paintings. Therefore, the audience is drawn into the subject which otherwise would have been considered mundane, this induces an emotive engagement to their sublime renditions.
---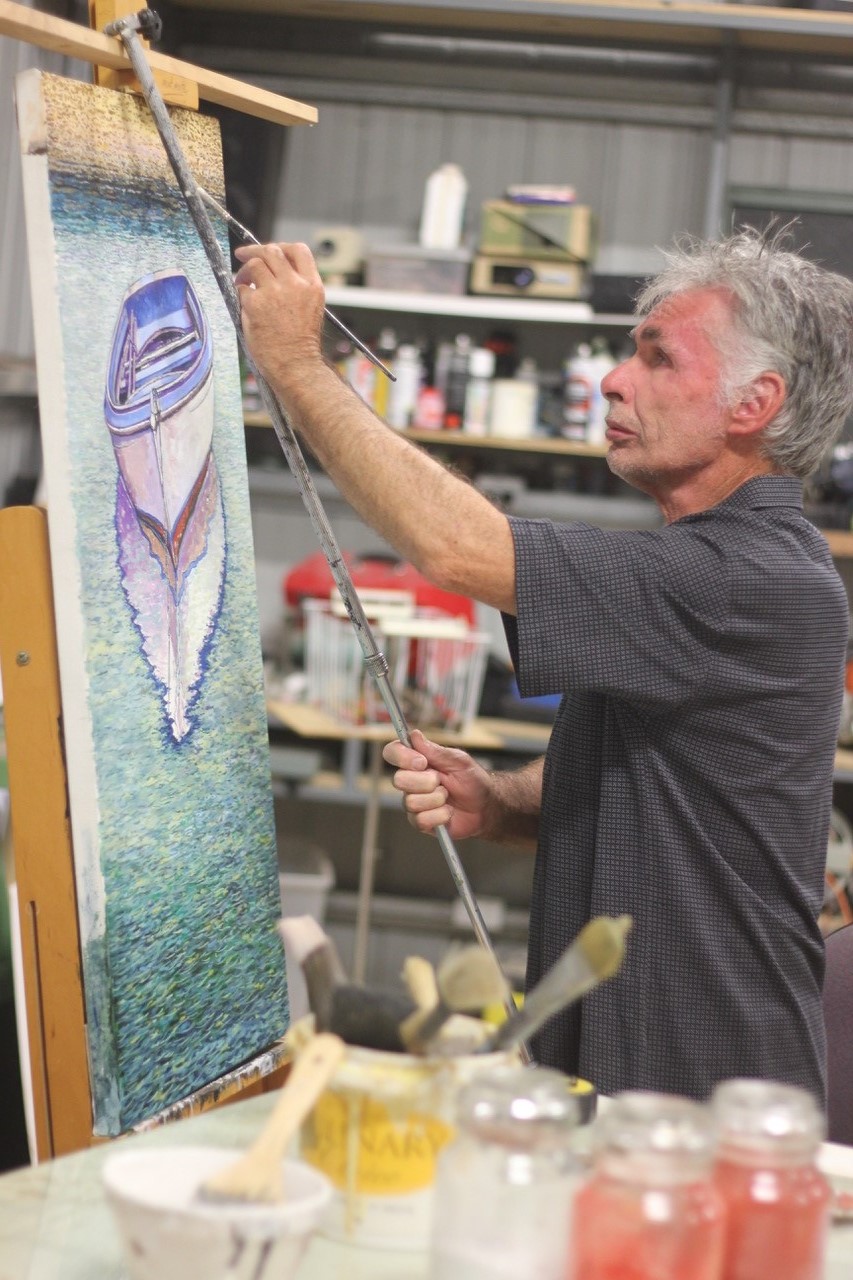 Greg Coates Art is in the Collections of:
Commonwealth Bank of Australia, Optus, Australia, BHP Steel Australia, Sun Properties, Gosford City Council, Edogawa City Council Japan, Art Bank Australia, Rockport National Bank USA, Hilliard Collection Rockport USA, Long Island University, Museum of the National Arts Foundation USA plus many and varied private collections.