A specifically commissioned work can be created from many different facets. Such as; an existing image, print, painting, photograph or sketch. It can also be an imagined vision or idea of the clients usually based on an adapted style and colour that suits the client's needs or imagination.
In all cases, an initial vignette is produced to scale as close as possible to the client's brief.
At this point meetings and dialogue are paramount to clarifying the agreed results.
When both artist and client are in agreement on the final draft, size, and medium work can commence on the piece.
At this stage, it will take four to six weeks depending on medium and size.
A fifty percent deposit on the agreed price is required at this point. The balance to be paid on completion.
During this period the client is encouraged to view the progress of the work either in person or via email.
Examples of Completed Commissions:
Example 1:
Boat shed Woy Woy Bay Is a straightforward example of a photographic reference with inclusions and embellishments. The client specified they wanted a long narrow format with realistic heightened colours. The work was 2.1m x 700cm Acrylic on canvas.
---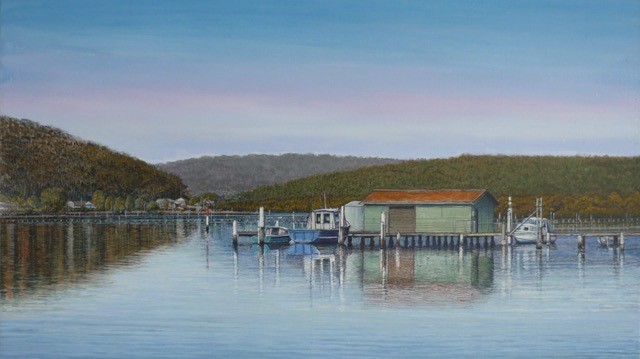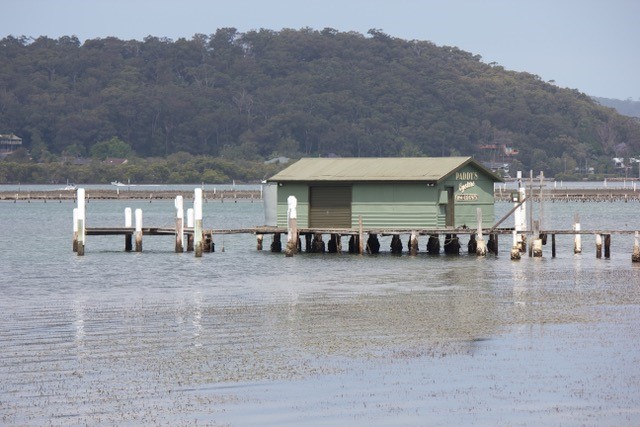 ---
Example 2
Patonga Beach In this case, the artist used his own photograph. The client required a larger sky and a simplified foreground. 2.4m x 600cm. Acrylic on canvas.
---
---
Example 3
One of the most recent commissions was a piece for Mr. Wayne Sun for Sun Properties, North Sydney. The original idea was again a long narrow format with a ratio of 4-1 to be placed in the boardroom of his offices. Mr Sun's initial idea was for a Sydney Harbour scene with the Harbour Bridge as the main feature. The work was to have the client's circular logo incorporated into the image. After meeting with the client and his staff the logo was dropped out and a more dramatic sky was executed. This result was deemed too strong for the allocated space, thus the third and final idea became a sunset with graphic cloud shapes and vibrant colour. Mr Sun and his staff were excited by the final result and believed it best represented the austerity of the company's tradition. ( Sydney Harbour Sunset oil on linen 2.4 metres x .600cm
---


---
Terms:

While the client owns the original work, the copyright and use of the image in any other way at all times belongs to the artist and cannot be copied or used in any other format or medium without prior consent from the artist.
Contact Greg Coates Art
38 Grandis Rd Bonville NSW, 2450